I am M0MEW.
I listen on HF from time to time with a Yaesu FRG-7700 and a lazily draped long wire.
I have recently started listening on VHF/UHF with an RTL2832+E4000 DVB-T/DAB/FM tuner in debug mode. The rooftop Freeview antenna picks up local UHF ham repeaters nicely.
I have never had a rig to transmit with, which means I am (un)surprisingly clueless, though I am currently trying out Echolink (node #42111).
World IPv6 Launch Day
...has just come and gone. Are you ready for IPv6?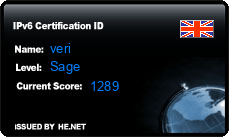 Home broadband monitor
(this web site is not hosted there)
Stuff I no longer want
A VMS 3/4 orange wall - many boxes - free if you ask for it.
Getting in touch
If you want a chat or need to shout at me, please e-mail: m0mew AT felin DOT es
=^^=
SSL (class 1 only) | Non-SSL | Force IPv6 | Force IPv4 | DNSSEC (.com domain)
Last updated: 16 June 2012